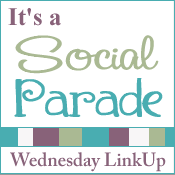 Here's another great way to get followers-
Social Parade
. It is held every Wednesday at Smart and Trendy Moms. Every week will be a new link-up that will focus on one of the ways you connect with people through your blog! We will rotate through gaining followers, fans, Networked blogs and more. Link-up and focus on one thing at a time. Its about fun one follower,fan and reader at a time!
This week they are doing
RSS Feed Subscribers
.